All that glitters is not gold.
Travelling con artists are reportedly taking advantage of Kootenay locals according to a Creston jewelry store owner and operator Tony Mulder. His disappointed customers say they met a traveler claiming that they are in need of money to reach their final destination. With only a gold ring or necklace to trade for cash, it sounds like steal.
Because it is.
"We're seeing between one or two victims a day." Mulder Explains. "They're coming into the store asking to have the jewelry that they purchased evaluated, to see if it's real gold. The items are all stamped 18K but they're nothing more than props from the circus."
Mulder says he's been assessing fake rings and necklaces everyday since early summer. The jewelry is often large and heavy, giving the illusion of worth. Each with the same story attached to it according to the victims.
"We've seen a lot last year and more this year." Says Mulder. "They're picking people off the side walk. They're sitting in a car, with a ring. They have a story, a hard luck story, and they say 'I need $400 or $200 or $100' and the person says 'I got 80 bucks on me' and then they take the item, they bring it into the jewelry store. It looks really good but they're just gold plated, maybe worth a dollar."
In some cases, people would phone ahead to get an assessment before making the transaction but nobody would show up according to Mulder. Some entered his store with a whole bag of jewelry thinking they struck gold, while others were only trying to be a good Samaritan.
"Creston folks are very generous, they're kind. When they hear a story about someone on their way to Vancouver for surgery, or they're needing gas or a motel, we're a generous bunch of people."
The scam was documented in the Creston RCMP's media report dated May 1, 2019.
"Report of a suspicious male harassing people and attempting to sell jewelry in the parking lot of the Creston Mall. Police intercepted the male, and determined that although suspicious, no criminal act had taken place."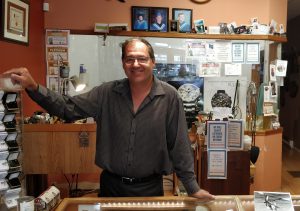 Mulder says the conned victims have encountered a variety of individuals working from different vehicles. However, there is an indicator the bogus jewelry all have in common.
The single 18 karat gold stamp.
According to Mulder there should be at least two stamps, one for the karat grade as well as maker's mark by the manufacturer.
Ultimately, he says buying gold from a stranger off the street is a bad idea.
Need more tips or tricks to spot fake jewelry? Follow this helpful link.