The Rural Northern Immigration Pilot program (RNIP) will be hosting an event in Creston to help employers learn about their program.
RNIP is a community-driven immigration program meant to help smaller communities recruit for the positions they need most.
Employers can hire candidates almost anywhere in the world who fulfill basic IRCC requirements and have a community recommendation.
Thanks to the work of organizations like Community Futures Central Kootenay and the Economic Action Partnership, RNIP will look to help the community and economy grow.
RNIP representative Leandri Kleinhans says there are certain qualifications a candidate must fulfill to be eligible.
"First off, they have to have a genuine offer of employment from a local employer. Then we'll also be judging whether or not there is anything to show that this person, this applicant, has the intention to stay in the community. And then, they have to be a good fit for our economic and labor needs."
Once they have gone through the assessment program and IRCC has confirmed the applicant is a good fit, the program provides a fast track to permanent residency.
"It really is a very advantageous program for employers, potential applicants, and the community," says Kleinhans.
On Monday, Nov. 7, a session will be hosted at the Creston and District Community Complex at 10:00 am to provide information to potential employers.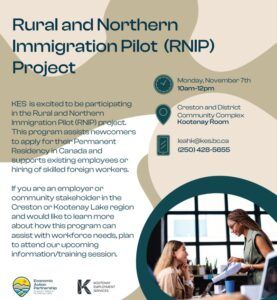 The session will feature speakers RNIP coordinator Erin Rooney and IRCC representative Scott Felman.
"They will be coming specifically to engage with employers and to answer any questions that potential employers might have about the RNIP program and how to participate," says Kleinhans.
Kleinhans says the program is a perfect opportunity to fill jobs that might be difficult to otherwise.
"We're really hoping to target positions and jobs that we're most in need of in our community. It would be lovely if we could use RNIP and other means as well to recruit nurses, health carers, early childhood educators, and truck drivers because these positions often go unfilled in our community, which creates significant economic hurdles for us."
"We're hoping that we can use this program to our advantage as a community to help us to move forward economically."