Construction is still underway at Creston's Market Park, with several important milestones being completed.
Natasha Ewashen, the municipal services coordinator and planner for the Town of Crestoon, says they are proud of the work they have completed.
"A huge part of getting ready to put shovels into the ground at Market Park was finalizing the plans for servicing hardscaping and softscaping," explained Ewashen.
"The completion of those plans was really a milestone in itself. In terms of construction of what you've seen so far, we've done most of the concrete work, including the curb and gutters, light bases, and concrete sections of the sidewalk."
Underground services such as storm, water, and irrigation main lines and the electrical conduit and lights have also been completed.
Benches, tables, and waste bins have been bought, but have not yet been put up.
Ewashen says they are very happy with the work being done and the public response.
"It took a while to actually see anything happening at the site after we closed it off to prep it for construction. Now that we have crews in there and working on the project, there's a resurgence of excitement surrounding the project and it's great to see the community's vision come to life."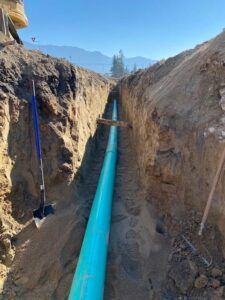 While the base of the construction has been laid, Ewashen says they are looking forward to completing the project, including installing pieces that showcase the rich culture and history of the Yaqan Nukiy people.
That includes a gathering circle, an ethnobotanical garden with signs informing visitors of the Ktunaxa names of plants and their traditional uses, teepees, tulles, and interpretive signage.
"We'll continue working with the Yaqan Nukiy to develop a space that is culturally representative, where people can learn and share the long history and culture of Yaqan Nukiy. We will collaborate with them on interpretive and educational signage such as Ktunaxa place names, traditional use of plants, ways of life, language, and stories."
"The development of Market Park is an opportunity to further truth and reconciliation, relationship building, and social inclusion."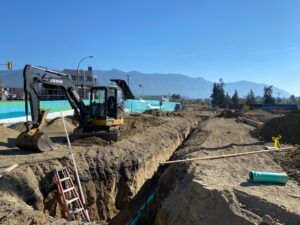 Next on the list for Market Park is paving, which is expected to start in mid-May. The fencing along the railway will also be installed for safety and throughout the summer work will continue to complete irrigation, install benches, tables, and waste receptacles, and plant shrubs, trees, and turf.
"The park will be functional by the fall and then we will continue to look for and apply for grants to further enhance the beautifying features such as landscaping, art signage, and some incorporation of some educational signage as well," said Ewashen.
The park construction has been funded by both Pacific Economic Development Canada, via the Canada Community Revitalization Fund, and the Columbia Basin Trust.
"I want to give a shout-out to our community. It's really the community's vision that led us here," Ewashen said.
"Market Park is a cornerstone of our award-winning OCP with consultation beginning back in 2014 with several groups in person. Consultation included over 500 individuals and citizens directing the Town of Creston to establish Market Park as the heart of the downtown and as a central gathering place for the Creston Valley. It was the community's goal to provide or create a multipurpose hub."