To celebrate 40 years of operation in the Creston Valley, the town's museum has opened a new exhibit to tell previously unheard stories.
Over the Blossom Valley weekend, '40 Years, 40 Voices' opened, displaying accounts of those who have called Creston home over the years.
Museum manager Tammy Bradford, says they wanted to celebrate their 40th with more than just a one-day event.
"So, we started looking for the stories that we haven't been telling in the past. For 40 years, we've been focused very strongly on the European settler community, because that's what our collection reflects. But we wanted to tell some of the other stories."
Bradford says the settlers are only a small part of the valley's history, and this gives those who weren't settlers in the early 1900s, who weren't of European descent, who just recently arrived in the valley, or simply those who just haven't had a chance to tell their story, to do so.
"But because we don't have things in our collection that reflect those stories, we needed to connect with the people who do have those things. So we've been inviting people in the community to come in and tell their stories."
And now, the exhibit stretches throughout the museum.
"It's amazing," says Bradford.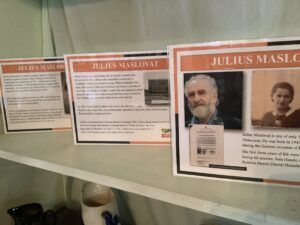 "We've got an incredible array of stories from people coming to Canada, their first experiences in Creston, first experiences with things in Creston that we don't think anything of. When they had those experiences, it was very different for them. It's pretty amazing to see."
One of the first stories to be shared was from a man, Kader, who was reminded of his first driving experience after interacting with another exhibit.
"He was at the museum for an event a couple of years ago, and saw our 1947 Maple Leaf truck," explained Bradford.
"It's an old farm truck, and for a lot of people growing up in Creston, learning to drive on farm vehicles is a fairly typical experience. And it got Kader thinking about his own first driving experience, which was in the Syrian army on a tank."
His is but one of now over 40 stories dotted throughout the museum. And Bradford says the exhibit is still growing.
"We've got a whole section in there with papers and pens and any materials that you want. We'll find a way to get it to you. We want people to contribute to this exhibit."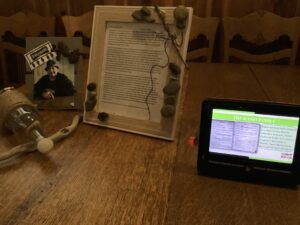 Bradford says they set a goal of 40 voices to start, but now they already have at least 42.
"We tell the story of the entire community, not just a few parts of it," adds Bradford.
"The more we can connect with people who have those different stories, the ones that we don't have reflected in our collections, the better it is for our objectives to tell the stories and also for the people whose stories they are."
Anyone who drops by the museum has the chance to add their own voice to the exhibit.
"Everybody's got a story to tell. Everybody's story is important. Everybody's story helps build the community as a whole. So again, if we can help share those stories and help people find out more about their neighbors and what we all have in common, that's just a wonderful thing to be able to do."
The exhibit will be open for at least a year and a half.