If you turn on the Great Canadian Baking Show this Sunday for the new season's premiere, you might see a familiar face.
Creston's own Loïc Fauteux-Goulet is one of 10 bakers from across Canada who gathered in Toronto to compete.
Fauteux-Goulet says the baking journey started when he was just a child.
"I've been baking with my parents, but mostly with my grandparents, since I've been a child. At first, it was very, I would say, conceptual. My first interests in baking were often related to my birthday cakes as a kid."
Fauteux-Goulet says he would submit drawings and concepts to his parents in hopes he would receive his dream cakes on this birthday.
"Very quickly, I realized that if I wanted those extravagant cakes, I needed to take part in the process and make them myself."
From there and into adulthood, Fauteux-Goulet says he realized his love of baking could be used as a tool to gather and connect with people.
"In university, I remember bringing trays of baked goods to my classes and just witnessing how people would interact more and be more friendly whenever there was a baked good to gather around. That's really what kept me going. It's the relationship that kind of spans from the baking."
However, it was actually the Great Canadian Baking Show itself that encouraged Fauteux-Goulet to take the next step.
"I was watching the show every week and I wanted to try the technical challenges," explained Fauteux-Goulet.
"So the baking show was really a companion in my baking journey."
But the show wasn't the only motivation for Fauteux-Goulet to dive further into his passion.
"Another part of the story is also meeting my current partner Allison, who's also a baker. When we met, I needed to impress her a little bit, so I had to up my game in terms of baking," Fauteux-Goulet laughed.
Fauteux-Goulet has lived in Creston for a year and a half, where he currently works as a high school teacher.
"When my partner and I moved here, we had never been to Creston. We really moved here almost by accident, in a way. And, happily, Creston was exactly what we were looking for," added Fauteux-Goulet.
"Right when we moved here, it was so overwhelming how everyone was keen on engaging with our projects or engaging in new events that happen through town. We really found our home in Creston, and now we're here to stay."
This is the seventh season of the Great Canadian Baking Show. Competitors must complete three challenges an episode to move on.
There is a signature bake and a showstopper, both of which they can practice. However, every week also includes a technical challenge for which they have no preparation.
"During the weeks leading to the show, we were basically practicing for those signatures and showstoppers that we wanted to bake on the show, doing them over and over again and really pushing our limits," explained Fauteux-Goulet.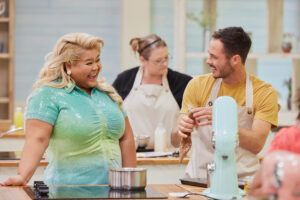 "Another part of the practice, which I call more the training, is making sure you know all of your baking basics because when you face a technical challenge, you have no idea what's going to be included in the recipe."
Aside from the obvious challenges, the cameras could add more complications.
"I felt pretty comfortable baking in front of a camera. But it definitely brings a whole set of new challenges that you don't necessarily think about in terms of time management, in terms of interacting with the staff around you, the camera describing what you're doing, talking to the judges. This accounts for quite a bit of time."
Fauteux-Goulet will be watching the premiere on Sunday on CBC with friends and family to see if he will make it to episode two.