Locals gathered outside of the newly renovated grain elevator in Creston for an art show.
The Columbia Basin Trust owns the building and is responsible for the renovations.
The elevator looks brand new and Sandy and Dirk Kunze, co-owners of the Kunze Gallery that operates inside, are more than happy with the renovations.
"It's not just the paint," says Dirk.
"It's the full [thing]. The full cladding, the roof, and everything. They did a great job of redoing it."
Dirk and Sandy moved into the grain elevator about seven or eight years ago and have been working hard to make the gallery what it is today.
The show was kicked off with a smudging and adoption ceremony where Dirk and Sandy were welcomed into Indigenous artist Mark Anthony Jacobson's family.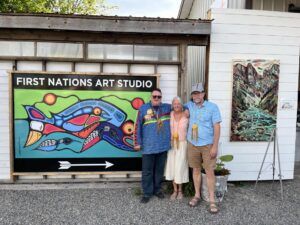 Dirk says the ceremony helps bridge the gap between two different cultures.
"We want to start drawing people into the circle," says Dirk.
"Everybody's got a different idea of what reconciliation is and what it means to them, but I think the only way forward is the circle."
Dirk says, with this new beginning, they are partnering with Indigenous artists to bring a more diverse collective in the gallery.
"It's a circle of togetherness for all people moving forward. So a different representative or a different agreement amongst people going forward. We all need to find our tribe, and the tribe doesn't have color, for sure."
Jacobson says showcasing art and hosting ceremonies are other ways to share the circle of truth and reconciliation.
"We want to be able to bridge the gap because we understand that there is a history here of colonialism that has tried to separate us all," explains Jacobson.
"I feel like we need to come together so that we can bridge those relationships and make things much better for each and every one of us today, but also for the future. We have an obligation to the children of the future, so we start by doing the things that we're doing today."
Jacobson's art is presented throughout the gallery, showcasing beautiful representations of Indigenous culture.
"My art is like medicine art. These paintings are like sacred scrolls."
"I go out in the bush. I talk to Mother Earth. I give tobacco. I give feasting to the spirits, and the animal clans, and I ask them for help so that they can help inspire me to communicate the images that I create on canvas. So my paintings are like aspects of healing and speaking for the well-being of Mother Earth and all of creation upon her."
Both Indigenous and non-indigenous art is spread throughout the gallery, something Jacobson says helps bridge the gap between the two cultures.
"I've always said artists are the true culture bearers. Without the artists, there'd be no culture. And without culture, you don't know who you are. You'd be wandering in the bush, scratching your head, going who am I and why am I here? But culture brings purpose and it brings community, and it brings understanding."